1. Lex
Lex was a working military dog that went to Fallujah, Iraq, with US Marine Corps Cpl. Dustin J. Lee. Lex was wounded in an attack that killed his handler, but despite his own injuries, Lex refused to leave Cpl. Lee's side. Lex had to be dragged away to be treated by medics. Lex was the first active-duty working military dog that was granted early retirement in order to be adopted. He was adopted by Cpl. Lee's parents, Jerome and Rachel. Despite his mobility issues due to retaining over 50 pieces of shrapnel in his body from war, he still worked as a therapy dog visiting military veterans at VA hospitals and retirement homes. Lee was awarded an honorary Purple Heart and in 2008 was given an Award for Canine Excellence (ACE) by the American Kennel Club.
2. Rin Tin Tin
This German Shepherd, after being saved from the trenches of WWI, was the first ever canine movie star. He was found on a French battlefield by an American soldier Lee Duncan. After returning to the US, Duncan trained Rinty and he stared in a few small roles in some silent films. Rin Tin Tin's first big break came in 1929, when he got the role in Warner Bros.' "Where the North Begins."
3. Appollo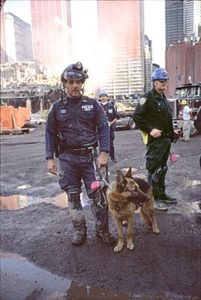 A trained search and rescue dog named Appollo was on-site with his handler Peter Davis of the NYC Police Department within 15 minutes of the attack on the World Trade Center on September 11, 2001. In the following days, over 350 search and rescue dogs and their handlers came to the Twin Towers site, and to the Pentagon, to search for survivors.
4. Smoky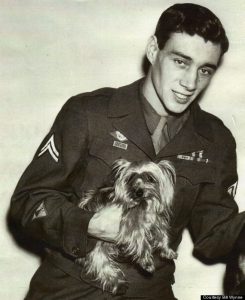 Smoky was a Yorkshire terrier found in 1944 by an American soldier in the New Guinea jungle. After being Cpl. William A. Wynne's partner for the next two years, she became something of a WWII mascot. She slept in Wynne's tent, shared his rations, and followed him wherever he went. Smoky survived over 150 air raids on New Guinea and made it through a typhoon at Okinawa. Thanks to her keen sense of hearing and danger, Smoky saved Wynne's life on multiple occasions warning him and his comrades of incoming fire. She was also the first therapy dog on record.
 5. Sinbad
Sinbad was a mixed-breed canine sailor aboard the US Coast Guard Cutter George W. Campbell. Sinbad served 11 years of sea duty in the Coast Guard, including combat in WWII. He was originally intended to be a gift for Chief Boatswain's girlfriend, but the girlfriend's apartment did not allow dogs.  Sinbad put his paw print on his own enlistment papers and was issued his own service identification number. He went on to be awarded the American Defense Service Medal, American Campaign Medal, European-African-Middle Eastern Campaign Medal, Asiatic-Pacific Campaign Medal, World War II Victory Medal, and the Navy Occupation Service Medal.
By Dr. Ashley Dawes