1. Lex
Lex was a working military dog that went to Fallujah, Iraq, with US Marine Corps Cpl. Dustin J. Lee. Lex was wounded in an attack that killed his handler, but despite his own injuries, Lex refused to leave Cpl. Lee's side. Lex had to be dragged away to be treated by medics. Lex was the first active-duty working military dog that was granted early retirement in order to be adopted. He was adopted by Cpl. Lee's parents, Jerome and Rachel. Despite his mobility issues due to retaining over 50 pieces of shrapnel in his body from war, he still worked as a therapy dog visiting military veterans at VA hospitals and retirement homes. Lee was awarded an honorary Purple Heart and in 2008 was given an Award for Canine Excellence (ACE) by the American Kennel Club.
2. Rin Tin Tin
This German Shepherd, after being saved from the trenches of WWI, was the first ever canine movie star. He was found on a French battlefield by an American soldier Lee Duncan. After returning to the US, Duncan trained Rinty and he stared in a few small roles in some silent films. Rin Tin Tin's first big break came in 1929, when he got the role in Warner Bros.' "Where the North Begins."
3. Appollo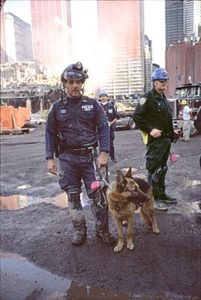 A trained search and rescue dog named Appollo was on-site with his handler Peter Davis of the NYC Police Department within 15 minutes of the attack on the World Trade Center on September 11, 2001. In the following days, over 350 search and rescue dogs and their handlers came to the Twin Towers site, and to the Pentagon, to search for survivors.
4. Smoky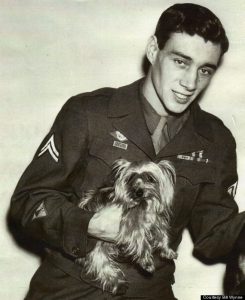 Smoky was a Yorkshire terrier found in 1944 by an American soldier in the New Guinea jungle. After being Cpl. William A. Wynne's partner for the next two years, she became something of a WWII mascot. She slept in Wynne's tent, shared his rations, and followed him wherever he went. Smoky survived over 150 air raids on New Guinea and made it through a typhoon at Okinawa. Thanks to her keen sense of hearing and danger, Smoky saved Wynne's life on multiple occasions warning him and his comrades of incoming fire. She was also the first therapy dog on record.
 5. Sinbad
Sinbad was a mixed-breed canine sailor aboard the US Coast Guard Cutter George W. Campbell. Sinbad served 11 years of sea duty in the Coast Guard, including combat in WWII. He was originally intended to be a gift for Chief Boatswain's girlfriend, but the girlfriend's apartment did not allow dogs.  Sinbad put his paw print on his own enlistment papers and was issued his own service identification number. He went on to be awarded the American Defense Service Medal, American Campaign Medal, European-African-Middle Eastern Campaign Medal, Asiatic-Pacific Campaign Medal, World War II Victory Medal, and the Navy Occupation Service Medal.
By Dr. Ashley Dawes
Reef had no idea how he would begin to impact a life in November 2015. Reef was raised with an organization called Canine Companions for Independence, which is the largest non-profit provider of assistance dogs. The organization is recognized worldwide for the excellence of its dogs and the longevity of the matches it makes between dogs and people. Canine Companions is volunteer based, from the caretakers that provide homes for the breeder dogs and whelp the puppies until they are eight weeks of age, to the puppy raisers that provide socialization and obedience training to the puppies. Between fifteen and eighteen months the puppies make the journey back to one of five regional training centers across the country for six to nine months of training with professional instructors. The new owner is then required to travel to one of the regional training centers for two weeks to train alongside their new companion.
Reef was selected to help his owner that has been diagnosed with MS (Multiple Sclerosis). His owner is wheelchair-bound and Reef has been trained in multiple capacities in order to assist her throughout the day. Reef can pull her manual wheelchair, pick things up that she has dropped, retrieve bottled water from the fridge, turn light switches on or off, push the button for automatic doors, as well as about 40 other commands. In addition to helping her physically get through her day, Reef has helped his owner emotionally as well. His owner remarked that it only took one day to fall in love with Reef and that he has changed her personality for the better.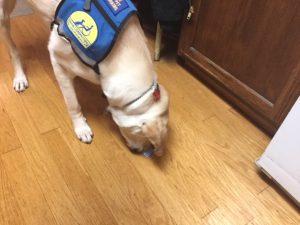 Reef was one of only 40% of dogs that make it through service dog training. There are four types of assistance dogs that Canine Companions helps train which are as follows: service dogs, hearing dogs, skilled companions, and facility dogs. The service dogs, like Reef, help assist adults with physical disabilities by performing daily tasks.  Service dogs have also been trained to help disabled war veterans. The hearing dogs help to alert the deaf and hard of hearing to important sounds. Skilled companions are placed with children or adults with physical, cognitive, or developmental disabilities that cannot guide the assistance dog themselves. There is a family member that directs the skilled companion in ways to help the disabled owner. The final type of assistance dog is a facility dog that works with a professional in a visitation, education, or healthcare setting. If you happen to see Reef, or another assistance dog, out in public it is important to remember that they are working and to never approach them to pet them without the owner's consent.
If you or someone you know would benefit from a dog like Reef, they can visit www.cci.org in order to learn more or even apply for an assistance dog. The Canine Companions for Independence organization is always looking for volunteers or even donations so they can continue to provide assistance dogs free of charge to owners in need. We at Dupont Veterinary Clinic love to see the numerous ways that animals, like Reef, continue to impact the lives of humans every day. Reef is truly an extraordinary companion and continues to bring joy to his owner's life every day.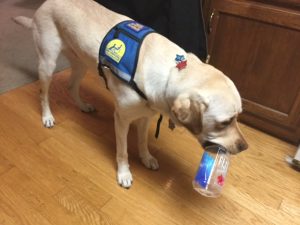 By Ashley Dawes, DVM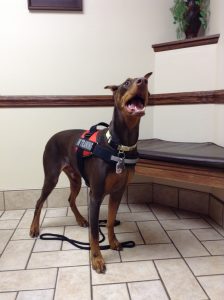 Ichi (pronounced EE-Chee), which means "one" in Japanese, is a one-and-a-half-year-old Doberman that is in training to be a PTSD (Post-Traumatic Stress Disorder) service dog. His owner, Mike, served six years as a Sniper in the IFO, Iraqi Freedom Operation, after the 9/11 Terrorist Attacks. Ichi is being trained to work by Mike's side to help him through the day-to-day struggles that numerous war veterans go through when they suffer from PTSD. According to a 2008 RAND Corporation study, up to 20 percent of Iraq and Afghanistan veterans experience PTSD or combat-related depression. In addition, roughly 30 percent of post-9/11 veterans treated at VA medical facilities have screened positive for PTSD.
Ichi is part of a growing group of service dogs, trained to interrupt and redirect panic attacks that PTSD veterans experience. If Mike experiences a nightmare, Ichi will wake him up and distract him to help get his mind off of the night terror and help him to fall back asleep. Ichi is always excited and happy to help Mike. As soon as Ichi puts his training harness on he is ready to work! While in his harness he keeps close to Mike and is ready to help in any way. Ichi has also been trained to respond to the command "guard," in which he stands behind Mike to create a passive barrier between him and others. These are only a few examples of how Ichi helps Mike acclimate back to civilian life.
PTSD service dogs are trained to perform an array of tasks or commands depending on the needs of the owner. For instance, they can be trained to alert an owner that an individual is standing behind them, retrieve medication or a family member, or alert and redirect anger to prevent escalation. PTSD war veterans have also trained their service dogs to walk into a room before the owner to check for other individuals that might be present, which is often referred to as a "room sweep." Service dogs have been shown to significantly decrease the need for medications, if not completely remove the need for medication to treat PTSD.
Ichi is still a service dog in training, but he has already greatly improved Mike's day-to-day outlook. Mike and Ichi are an impressive pair when they work together! They hope to spread the word to other war veterans that might suffer from PTSD so they too may receive the benefit of a constant canine companion.
At DVC, we appreciate the sacrifice that people like Mike make for all of us.  And we appreciate the human-animal bond that enhances so many of our lives.  We're sure you feel the same!
By Ashley Dawes, DVM