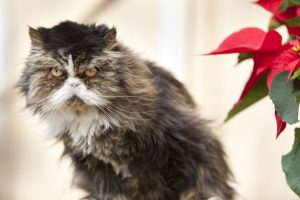 This time of year, most of us begin focusing on the upcoming holidays. Who will host? What dishes will we make? Is it too early to begin decorating (of course not!)? However, while our to-do lists may be long, holiday pet safety should remain a top priority.
No Feasting for Fido
Keeping pets out of all the delicious food is one of the chief concerns around Thanksgiving and other meal-centric holidays. It's also important for owners to resist sneaking their fur pals a bite of turkey or gravy at the table. Not only do these habits pose a risk for poisoning, they also increase the possibility of gastrointestinal injuries/obstructions and pancreatitis, a potentially dangerous and painful condition.
Toxic foods that should be avoided include:
Chocolate (especially dark or baker's chocolate)
Xylitol (found in sugar-free products)
Grapes, raisins, and currants
Garlic, onions, chives
Nuts (especially macadamia)
Fruit pits
Coffee and alcohol
The following are other food-related hazards to keep away from pets:
Compost and uncovered trash bins
Turkey bones or other meat bones
Rich, fatty foods like gravy, poultry skin, and cheesy or buttery sauces
Meat wrappers and string
To protect your pet, consider placing him or her in a quiet room that's separated from all the cooking and eating.
Dangerous Decor
Although pretty, the festive décor we love can be dangerous when left to curious (or accident-prone) cats and dogs. Holiday pet safety means watching out for the following:
Toxic plants (e.g., lilies and amaryllis)
Lit candles
Potpourri and scented oils
Stringed decorations such as tinsel or curling ribbon
String lights
When in doubt, the best option is always to keep these items out of your pet's reach.
Planning for Holiday Pet Safety
While many things could spark the appetite or interest of your fur kid, planning and preparation can make a big difference. For some, boarding may be the best option and can reduce stress and anxiety for both you and your pet.
Otherwise, we recommend moving your pet to a quiet area in your home. Provide a cozy bed, some healthy treats, fresh water, and his or her favorite toys. This will prevent a bold pup or kitty from getting up on the table and will decrease the chances of a missing pet (if you're hosting, doors and gates may accidentally be left open).
We hope you find these tips and recommendations helpful when planning the perfect holiday gathering. If you have any questions, please contact the team at Dupont Veterinary Clinic.