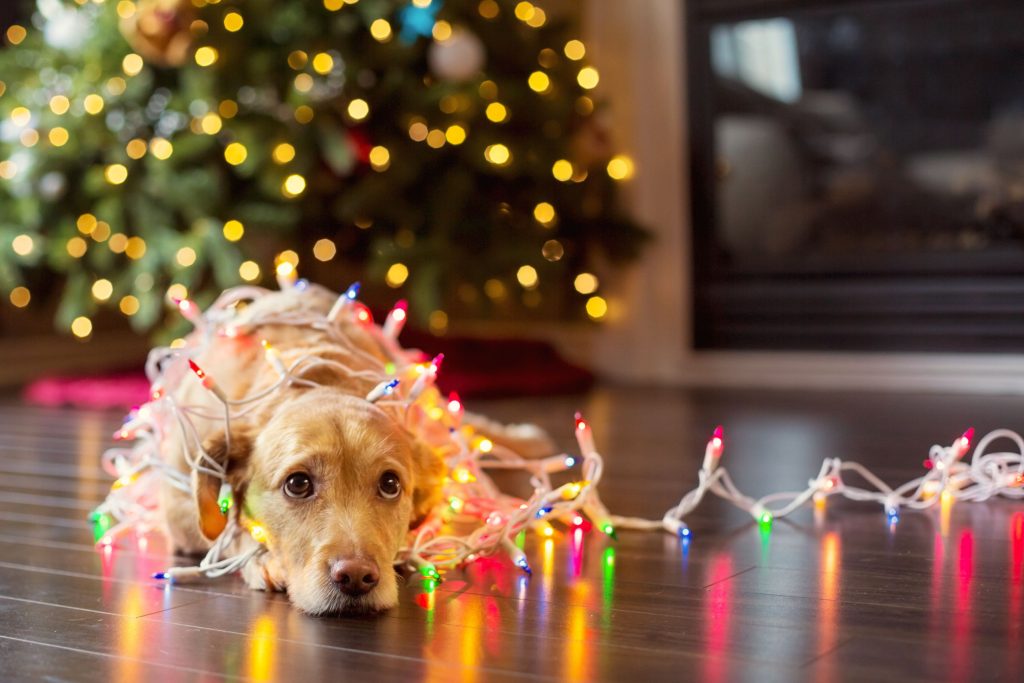 It's odd that the ways in which we celebrate the holidays are also responsible for negatively impacting pet health. Between the foods, guests, and routine disruptions, pets are inadvertently placed in the crosshairs. To counteract the effect that the seasonal holidays have on our ability to mitigate disaster, we offer this guide to holiday pet safety. The more you can stay in front of at home, the better.
A Delightful Spread
We indulge in special foods during the holidays that we normally wouldn't ever make or sample. Guess who watches every single thing that enters your kitchen or graces your table? Yes, the family pet knows that what you're preparing is bound to be super tasty. They may try to sneak a taste that falls to the floor, or worse, make a leap for the delightful spread on your holiday table.
We recommend making a special plate of holiday goodness for your pet to enjoy right before or during your holiday meal. A plate of steamed veggies like sweet potato, green beans, or carrots accompanied with a few bite-sized pieces of white meat can go a long way.
The following foods should never be offered or left out for your pet to sample:
Chocolate
Alcohol
Caffeine
Xylitol
Onion
Garlic
Grapes,raisins, or currants
Macadamia nuts
Bones
Gravy
Uncooked yeast dough
If you know or suspect your pet ate something potentially toxic, watch for any symptoms and call us for immediate help.
The Truth About Holiday Decorations
Unfortunately, most of the items used to dress up the home can present certain health hazards to your pet. Artificial garlands, wreaths, plants, and even a fake Christmas tree can reduce the risks to your pet.
Please use extreme caution regarding the following threats to holiday pet safety:
Candles
Dry or simmering liquid potpourri
Glass ornaments
String lights
Animatronic displays
Electric cords
Snow gloves (can contain the toxin ethylene glycol)
Tinsel
Also, be careful to pick up wrapping paper, ribbon, string, twine, and bows after you open presents.
The Shake Up
Your pet is a creature of habit. They enjoy being able to anticipate what's coming next. Whether it's their meal times, bathroom breaks, exercise opportunities, or simply when you return from work, they always have something to look forward to.
Be sure to maintain their every day schedule. If you cannot be at home to deliver on what's needed, enlist the help of others.
Friends or Foes?
If you plan on entertaining a small group this year, take control of your pet's environment before things get out of hand. Request that your guests never feed your pet from the table, and be sure to secure their personal belongings behind closed doors (backpacks and handbags can be full of items dangerous to pets).
Watch your pet's behavior for signs of stress or anxiety. A vigorous walk can help with nerves, but they may also need a room all to themselves while guests are over. Always be certain that your pet cannot run away or jump the fence.
Holiday Pet Safety for All Ages
If you have additional questions or concerns about holiday pet safety, please give us a call at (260) 637-7676. From all of us at Dupont Veterinary Clinic, have a safe and happy holiday season!