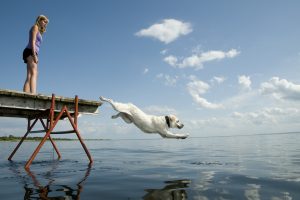 Summer's not over yet, and if you haven't hit the road (or the sky) for your summer vacation, there's still time! If you are considering whether traveling with a pet is the right decision for your family, your team at Dupont Veterinary Clinic has got you covered. We'll walk you through the process of getting your pet ready for travel, safety concerns, as well as making alternate arrangements for your pet when necessary. All aboard!
Tips And Tricks For Traveling With A Pet
For many pet parents, the thought of leaving Fido or Fluffy home while we travel is unthinkable, so keeping the special needs of our furry family members in mind is essential before hitting the road:
Schedule a

wellness visit

several weeks or more prior to your departure to ensure that your pet is healthy enough for travel and is up to date on all the necessary vaccines and parasite preventives.

Updated IDs are an absolute essential, especially when you and your pet are away from home. Make sure your pet is wearing a collar with ID tags that include your current cellphone number, and have your pet's microchip updated before you go.

Pack your pet's essentials such as plenty of food and fresh water (and bowls!) medications, leash, and crate. A few of the comforts of home can go a long way toward making your pet feel secure in a new environment, so grab your pet's bedding, favorite toy, and a few treats as well.

Consider your pet's safety needs and bring along the proper gear depending on where you're going and how you're getting there; for example harness, crate, and seat belt attachments for the car or pet life jackets for boating.

Your pet's medical records may be required depending on your accommodations, so have a copy on hand at all times.

Plan ahead for your pet's convenience and comfort while on the road by scheduling plenty of pit stops along the way, giving your pet a chance to get a drink, take a potty break, and stretch those four legs.

Never leave your pet alone in a vehicle! If you must get out of the car without your pet, make sure someone else stays with him or her.
Does My Pet Need A Health Certificate?
If you are crossing state lines or traveling overseas, the answer to this question is: yes, your pet will need a health certificate.
Your pet will need to be examined by a veterinarian and determined to be free of communicable disease, as well as be fully vaccinated, in order to obtain a pet health certificate. Give us a call to get started on the process as early as possible prior to your departure.
Home Sweet Home
As wonderful as it would be to have our furry family members with us on all of our adventures, sometimes traveling with a pet presents too many risks to safety and well-being. It may seem like finding a trusted friend or family member to watch your pet is the natural choice, but this isn't always the case. When in doubt, it's best to find a reputable boarding facility to care for your pet while you're away.
A boarding facility should:
Be clean and spacious

Afford opportunities for exercise, socialization, and affection

Have a plan in place for emergencies

Have excellent references

Employ a friendly and communicative staff
As always, if you have any questions or concerns regarding traveling with your pet, don't hesitate to contact us.