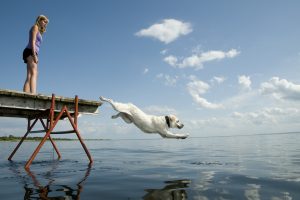 Summer's not over yet, and if you haven't hit the road (or the sky) for your summer vacation, there's still time! If you are considering whether traveling with a pet is the right decision for your family, your team at Dupont Veterinary Clinic has got you covered. We'll walk you through the process of getting your pet ready for travel, safety concerns, as well as making alternate arrangements for your pet when necessary. All aboard! Continue…
The dog days of summer can inspire us to escape to the great outdoors for some fresh air and fun. If you're a nature-loving pet parent, camping with a pet might seem like the ultimate way to relax on a weekend.
In preparing for such an excursion, you probably have a number of 'must-haves', like bug spray, sunscreen, and marshmallows on your packing list. Similarly, there are many precautions to take to keep your best fur pal safe while on the lake, in the woods, or wherever your sense of adventure leads you.
Pre-Camping Pet Checklist
From Hoosier National Forest and State Parks to the many beautiful, inviting lakes, Indiana has some amazing campsites to offer a family and their Fido. Continue…