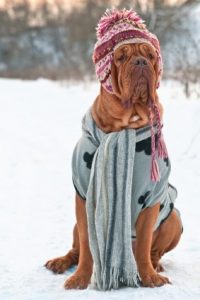 Are your pets getting cabin fever? Here are 5 quick tips on how to keep you and your pets active this winter.
 Hide and Seek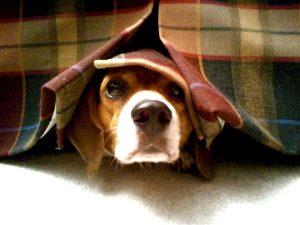 Position your dog in a different room in the house, preferably with a staircase or a couple rooms between you and them. Then call your pet to come and find you and reward him with a treat when he finds you. Each time your dog (or cat!) finds one family member, the other person changes location so your dog has to seek them out again.
The Searching Game
Hide your pet's favorite toys with treats inside or even just treats around the house and then prompt your dog to go search to find them.  Here is a short video on how to train your pet to search for treats. (https://www.youtube.com/watch?v=aSa3JMjq5EI )
Teach Your Pet New Tricks
Keeping pets mentally stimulated is very helpful in beating the winter doldrums. There are endless tricks and training sessions that you can do from home.  Start with simple tricks, such as "stay" or "shake," then move on to more complicated tricks like "roll over" or "high five."  Keep training sessions to about 15 minutes so it is fun for everyone. Teaching your pet new tricks helps encourage good behavior and helps you bond with your pet.
Make Mealtime Fun
Pets like to scavenge to look for their food. Try offering his meals in a feeding toy rather than just in a food bowl. They will not eat as quickly and it will help to keep them busy.
Create an Indoor Agility Course
Build obstacles for your pet to navigate, like an agility course, with household items. You can use chairs as weave poles to navigate around, place a blanket over the tops of chairs to create a tunnel for your dog to run under, or a hula hoop in your hands for your pet to jump through.  Train your pet to run through the course with a hand target and use a lot of treats and praise as a reward. These obstacles encourage your pet to be more active and help you bond with your pet too.
We at Dupont Veterinary Clinic want to encourage healthy relationships between pets and their owners. Cold weather and short days make it easy for us and our pets to become a bit lazy in the wintertime. We hope these 5 tips help you and your pets stay busy this winter.
By Ashley Dawes, DVM