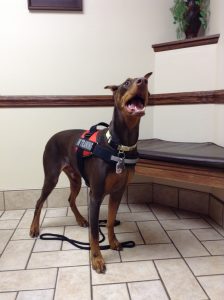 Ichi (pronounced EE-Chee), which means "one" in Japanese, is a one-and-a-half-year-old Doberman that is in training to be a PTSD (Post-Traumatic Stress Disorder) service dog. His owner, Mike, served six years as a Sniper in the IFO, Iraqi Freedom Operation, after the 9/11 Terrorist Attacks. Ichi is being trained to work by Mike's side to help him through the day-to-day struggles that numerous war veterans go through when they suffer from PTSD. According to a 2008 RAND Corporation study, up to 20 percent of Iraq and Afghanistan veterans experience PTSD or combat-related depression. In addition, roughly 30 percent of post-9/11 veterans treated at VA medical facilities have screened positive for PTSD.
Ichi is part of a growing group of service dogs, trained to interrupt and redirect panic attacks that PTSD veterans experience. If Mike experiences a nightmare, Ichi will wake him up and distract him to help get his mind off of the night terror and help him to fall back asleep. Ichi is always excited and happy to help Mike. As soon as Ichi puts his training harness on he is ready to work! While in his harness he keeps close to Mike and is ready to help in any way. Ichi has also been trained to respond to the command "guard," in which he stands behind Mike to create a passive barrier between him and others. These are only a few examples of how Ichi helps Mike acclimate back to civilian life.
PTSD service dogs are trained to perform an array of tasks or commands depending on the needs of the owner. For instance, they can be trained to alert an owner that an individual is standing behind them, retrieve medication or a family member, or alert and redirect anger to prevent escalation. PTSD war veterans have also trained their service dogs to walk into a room before the owner to check for other individuals that might be present, which is often referred to as a "room sweep." Service dogs have been shown to significantly decrease the need for medications, if not completely remove the need for medication to treat PTSD.
Ichi is still a service dog in training, but he has already greatly improved Mike's day-to-day outlook. Mike and Ichi are an impressive pair when they work together! They hope to spread the word to other war veterans that might suffer from PTSD so they too may receive the benefit of a constant canine companion.
At DVC, we appreciate the sacrifice that people like Mike make for all of us.  And we appreciate the human-animal bond that enhances so many of our lives.  We're sure you feel the same!
By Ashley Dawes, DVM