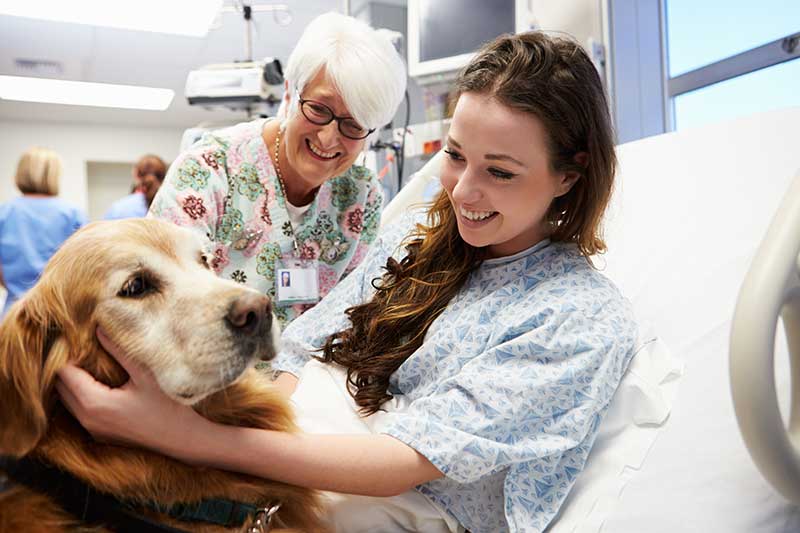 During the holidays, many of us think of friends and family first and foremost. Those less fortunate also are never far from our thoughts during this season of gratitude and giving, of course, and even during our own holiday hustle and bustle we tend to smile more at strangers, bake for the neighbors, and even sometimes volunteer our time for a holiday charity.

Pet owners know that our pets give us unconditional love, and the holiday season seems like a perfect time to spread that love. Volunteering with your pet during the holidays is an opportunity to make a difference in the lives of others while spending quality time with your furry family.

Here are a few ways to get started!

Volunteering With Your Pet
Therapy dog: if your pet is a people pleaser, why not have her certified as a therapy pet? Therapy pets are trained to provide love, support, and comfort to people in hospitals, nursing homes, hospice, schools, and disaster areas. Therapy pets and their owners work together to improve the lives of those in need. So why not spread some love with your pet?

Reading buddy: your pet can provide support for a child who is learning to read. These reading programs, which are popping up all over the country, are designed to provide a canine reading buddy to children struggling with reading and the low self esteem that often accompanies not reading at the same level as their peers. Reading aloud to a non judgemental "pet ear" can encourage young learners to improve their confidence, thereby improving their skills.

Holiday foster dog: is there room in your home this holiday season? If your dog is great with other dogs, you could volunteer to be a holiday foster home for a pet in the animal shelter. Shelter pets benefit from going into a foster home because they generally relax, show their true personality, and can work on socialization skills (assisted by your dog). What's more, you'll be helping foster parents to have a much needed break, as they typically take in foster dogs all through the year. Check out the Fort Wayne Animal Care and Control to get started.

Run for charity: volunteering with your dog can take on many shapes, and if you're runners or walkers, a charity fun run can support many worthy causes. During the holidays there are usually several events, so you can choose one that speaks to you. Great exercise for a great cause – what could be better?

Give the gift of life: during the holidays, accidents and illnesses happen. Emergency animal clinics are always in need of life saving donor blood for those pets who have lost too much of their own. The gift of a blood donation is literally the gift of life in many cases. There are health restrictions, though, so give us a call if you have questions about whether or not your pet is healthy enough to donate.
If you are interested in volunteering with your pet, we encourage you to look into the many ways of giving back. If you have volunteered with your pet in the past, let us know so we can add your ideas to our list. We think you'll make a great volunteer team! Happy Holidays from your friends at Dupont Veterinary Clinic.