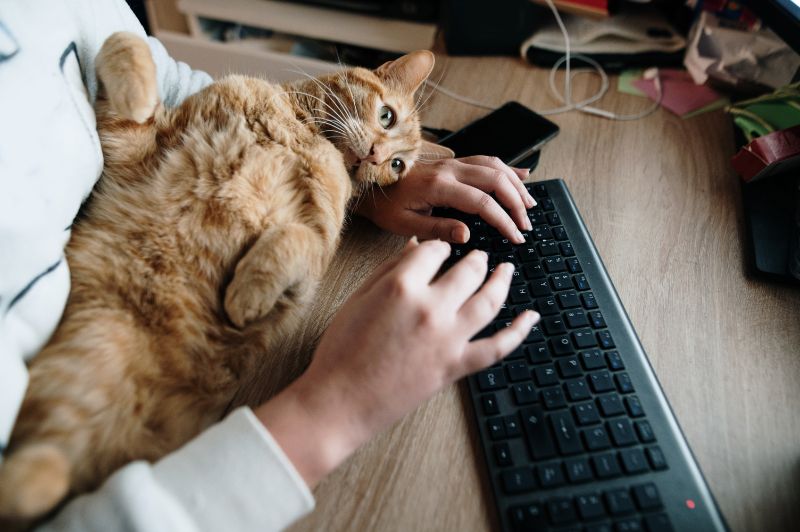 Over the course of the last year, the home has turned into the center for living, entertainment, and even working. While working from home with your pet might have seemed exciting at first, a lot of us quickly saw how our pets can make it harder to stay productive throughout the day.
Whether your cat uses your keyboard as his own personal jungle gym or your dog likes to start barking as soon as you log into a virtual meeting, it is definitely a transition to figure out how to coexist…and cowork…with your furry, scaly, and feathery friends.
The team at Dupont Veterinary Center wants to help you find out how you can circumvent the struggles so you can make the most of the extra time you have together.
Time for Play While Working From Home With Your Pet
Our pets love it when we pay attention to them. If you are suddenly home all the time when you are usually gone for huge chunks of the day, these loving animals want to demonstrate their affection by being with you as much as possible.
One great way to balance their need for attention with your need to get some work done is to schedule play breaks throughout the day. Whether you go for a short walk every few hours or play a chasing game with your cat, this scheduled break gives your pet a chance to enjoy some quality time with you while you can give your brain a much-needed work break.
Create A Designated Work Space Away From The Action
If you have been spending your work days at the kitchen table or with your computer resting on your lap on the couch, it can be hard to separate your work day from your home life.
Try to find some space in your house where you can set up a designated work space. If you have an extra room with a door that closes, this gives you a way to close yourself off when you need to avoid distractions from your pets. You can also move your animals into the bedroom if you do not have a clear office space.
Keep Your Pets Busy While You Are Busy
Clever distractions like chew toys or activity games can keep your pets occupied for a few hours if you need to focus on a meeting or a big project. Consider investing in a few toys or games that will keep your pets busy so they do not need to act as your shadow for the entire day.
Be Patient With Everyone Involved
Working from home is a big adjustment for everyone. This new daily routine might require some transition time, and it is important to remember to be patient with your pets and yourself. Do what you can to make sure your animals are happy and comfortable throughout the day, and eventually everyone will get used to coexisting in the same space for such long periods of time.
If you need more tips on working from home with pets, the team at Dupont Veterinary Clinic is here to help. Give us a call at (260) 637-7676 for more tips on how to mix your home life with your professional life while keeping your pets happy and healthy.