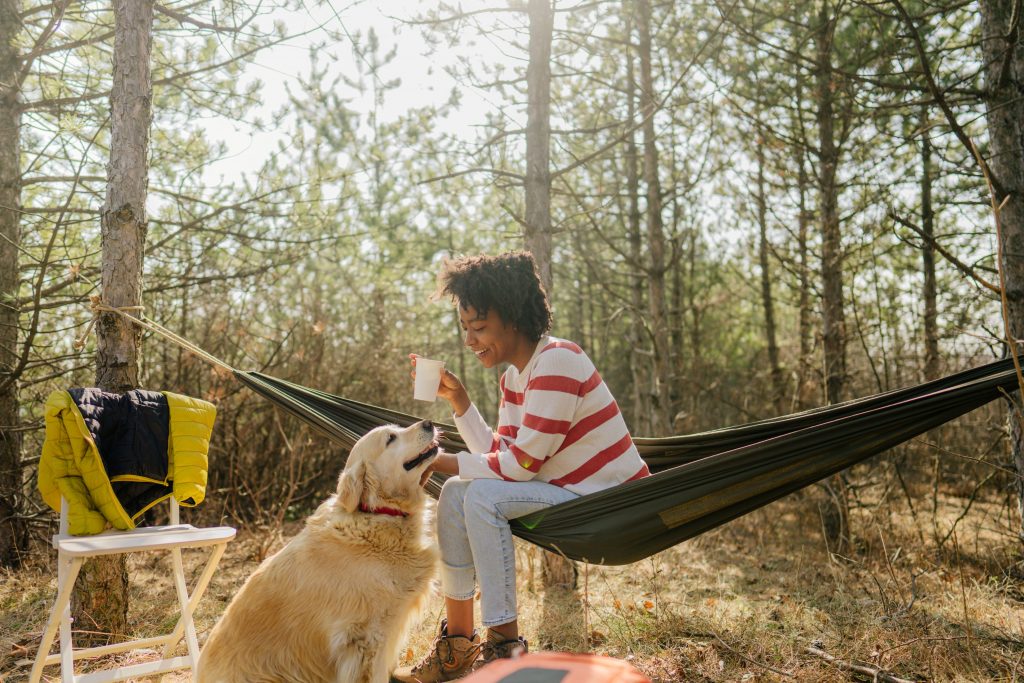 Camping is a beloved summer activity for many families, and Indiana is home to a wide variety of scenic spots to pitch your tent. Including the family pet can make the experience even more memorable. After all, who doesn't relish the sight of a happy pup frolicking through the woods or along the lakeshore?
Camping with pets is not without some risks, however. Careful planning and preparation is necessary for a safe and enjoyable experience for your pet, and your team at Dupont Veterinary Clinic is here to help you get set up for success!
Safety First
Planning for the safety of your furry friend is your top priority when it comes to camping with pets. Keep the following safety tips in mind before you start packing:
Bring your pet in to see us for a pre-camping physical to ensure he or she is healthy enough for the outing. Factors such as age, health conditions, medications, or other limitations determine whether or not it's safe to take your pet camping.
It's imperative that your pet is up-to-date on his or her vaccinations prior to your trip. Important vaccines like rabies, leptospirosis, and Lyme disease will help keep your pet and other campers safe.
Fleas, ticks, and heartworm-carrying mosquitoes pose a real threat to your pets. If you haven't started your pet on monthly parasite prevention, be sure to do so before you go.
If your pet has not been microchipped yet, consider having this done before your trip. Collars and tags can fall off or become damaged, and microchipping is your pet's best chance of being reunited with you if he or she gets lost.
A pet first aid kit is a must-have. You can purchase one pre-made or put together your own based on this list.
Research veterinary hospitals near the area where you plan to camp and program the numbers into your phone. Knowing where to take your pet in the event of an emergency will save time and help you to stay calm.
The Essentials
As you pack for the human members of your expedition, set aside the following items for your pet's duffel bag:
Collar, ID tags, leash/carrier
Plenty of food and fresh water (don't allow your pet to drink out of lakes or other standing bodies of water)
Toys and games
Brush or comb for removing debris from fur
Tie-out (most campgrounds require pets to be leashed or on a tie-out at all times)
Dog life jacket (if you will be swimming)
Pet formulated sunscreen and bug spray
Dog booties or shoes for inclement weather or hiking
Pet first aid kit
Pro Tips for Camping with Pets
Make sure you know the "lay of the land" when it comes to your campsite. You can ensure an enjoyable experience for yourself and others by following campground pet rules and etiquette.
Other pet-friendly camping tips include:
Plan pet-friendly activities, such as swimming or hiking.
Prevent a wildlife encounter by keeping your pet leashed while on the trail.
Clean up after your pet both in and outside of the campground.
Check your pet for ticks at the end of each day.
Bring your pet into your tent with you to sleep, or allow him or her to sleep in the car with the windows down a bit if it's cool outside.
Camping and traveling with your pet can be a deeply enjoyable experience and can strengthen the bond between the two of you. Please don't hesitate to contact the staff at Dupont Veterinary Clinic with any questions or concerns you may have.