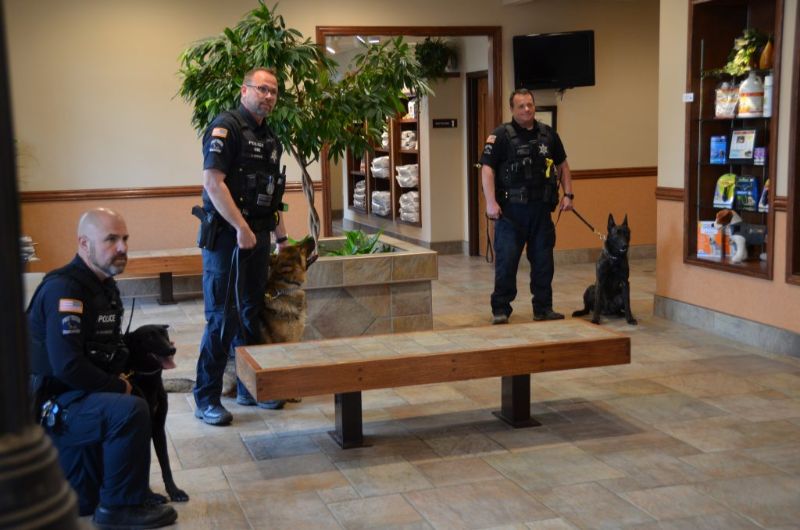 In 2018, 28 police K9s were killed in the line of duty. K9s are not only invaluable assets to any police force, but they are loyal friends, protecting both their officer handler and the community at large.

Much is expected of K9 officers. They are trained to patrol, track, and locate people, drugs, and explosives, as well as to protect their human partners. K9 officers are in as much danger of being shot or injured as human police officers, but unlike human officers, most don't wear protective vests.

Learn about how Dupont Veterinary Clinic, along with other groups, worked hard to change that right here in the Fort Wayne Police Department.
Four-Legged Heroes
Police officers put their lives on the line every day, knowing that it could be their last. The same goes for their canine officer partners. Dr. Steve Harry, DVM, owner of Dupont Veterinary Clinic, along with the rest of the staff, believe that protecting the two and four-legged officers who so valiantly serve our community is of the utmost importance.

Providing bulletproof vests for K9 officers is an important part of that protection, and thus the idea for the K9 vest fundraiser was born.
K9 Vests Success!
Beginning on January 11, 2019, Dupont Veterinary Clinic along with individuals as far away as Florida, New Jersey, and Wisconsin donated money toward the purchase of K9 vests for the Fort Wayne Police Department. The fundraising effort concluded on March 14, 2019, and raised an astonishing $4,016.69.

The money raised has gone directly to purchasing bulletproof vests for K9 officers Loki, Lobo, Rizzo, and Iskra of the Fort Wayne Police Department. We were thrilled to be able to present these vests to each individual officer right here in our clinic on April 26, 2019! The vests will be beneficial when the K9 teams are performing high-risk searches and apprehensions in our community and the surrounding areas.

If you'd like more information about our K9 vests program or have any questions or concerns regarding your pet, don't hesitate to reach out to our staff. Healthy and safe pets are our priority!